[ad_1]

Naushad Shaikh cracked his seventh First-Class century (145 batting, 219b, 20×4) in his 34th match to help Maharashtra score a challenging 353 for five against Hyderabad at close of play on the first day of the four-day Ranji Trophy Elite Group B match at MCA Stadium here on Tuesday.
As has been the trend with Hyderabad captain Tanmay Agarwal this season, Maharashtra was put in to bat. Initially it looked worth the gamble when pacer T. Ravi Teja trapped Ruturaj Gaikwad (8) lbw in the third over. His new-ball partner Kartikeya Kak then forced Saurabh Nawale (29) to give a catch to Rahul Radesh in the eighth over to leave the home team at 48 for two.
But much to Tanmay's dismay, Hyderabad's bowlers ran into a stubborn No. 3 batter. Naushad strung together two century partnerships to dent Hyderabad's hopes of making further inroads into Maharashtra's line-up.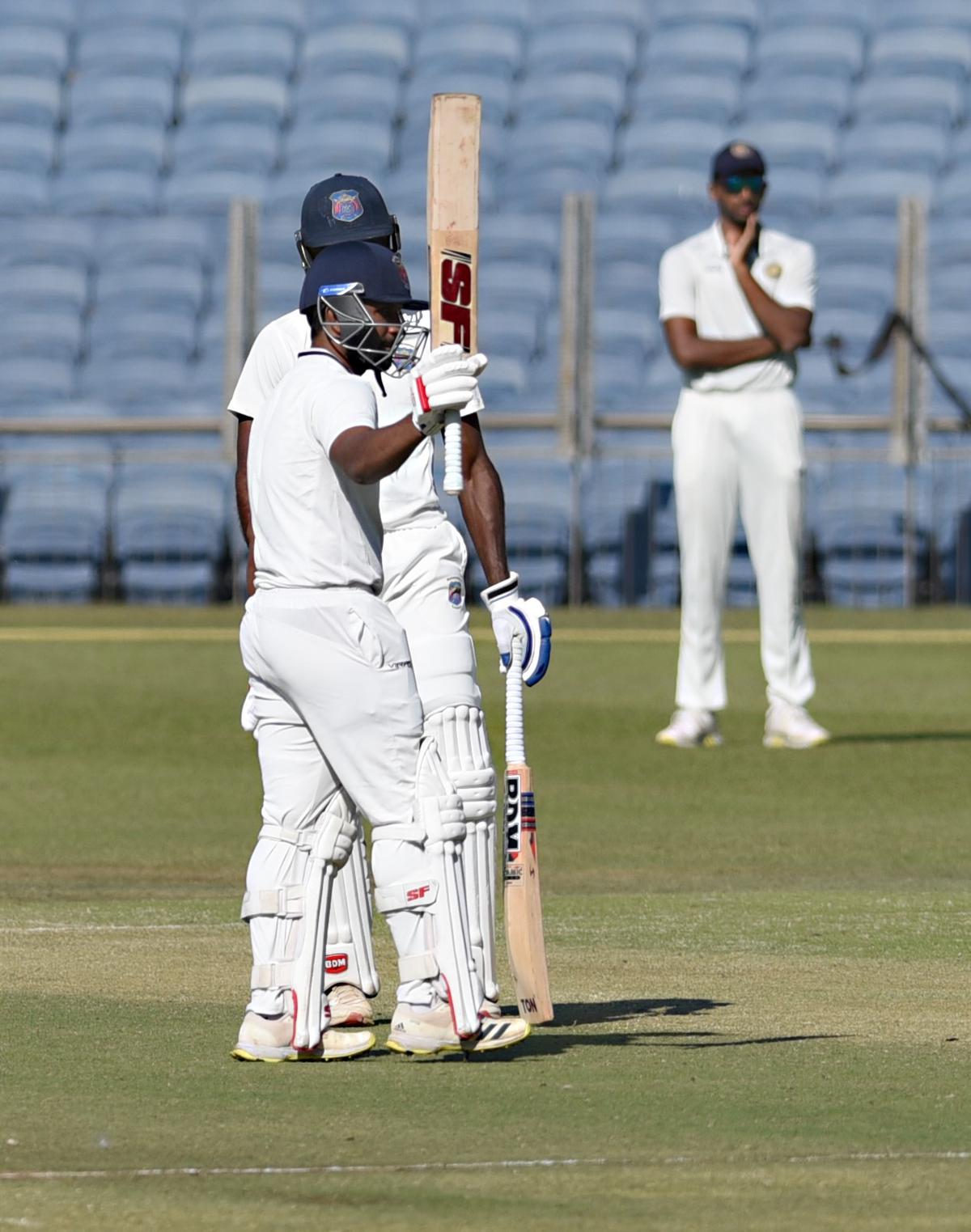 Naushad first joined hands with Kedar Jadhav (71, 92b, 9×4, 1×6) to put on 128 runs off 174 balls for the third wicket and then added an unbroken 121 off 193 balls for the sixth wicket with Ashay Palkar (61 batting, 115b, 9×4) to push Hyderabad on the backfoot.
But for the three-wicket haul by pacer Kak, who got rid of Jadhav and later Azim Kazi (11), it would have been a more pitiable story for Hyderabad's bowlers.
Pacer B. Punnaiah and left-arm spinner Aniketh Reddy, who claimed a seven-wicket haul in the previous game against Saurashtra, went wicketless.
The scores: Maharashtra — 1st innings: Ruturaj Gaikwad lbw b Ravi Teja 8, Saurabh Nawale c Rahul b Kak 29, Naushad Sheikh (batting) 145, Kedar Jadhav lbw b Kak 71, Ankeet Bawane b Ravi Teja 13, Azim Kazi b Kak 13, Ashay Palkar (batting) 61; Extras (b-1, lb-11, w-1, nb-2): 15; Total (for five wickets in 85 overs): 353.
Fall of wickets: 1-14, 2-48, 3-176, 4-216, 5-232
Hyderabad bowling: Ravi Teja 12-1-54-2, Rakshann 18-0-79-0, Kak 18-1-76-3, Punnaiah 19-3-68-0, Aniketh Reddy 16-2-54-0.
[ad_2]

Source link