[ad_1]

The Netherlands was expected to saunter to victory against Chile in its final Pool C match and duly obliged. The Dutch registered a 14-0 win against the hapless South American debutants to finish on top of the pool and become the first team to qualify for the quarterfinals at the Hockey World Cup here on Thursday.
It was the biggest margin of defeat in the World Cup ever, bettering Australia's 12-0 hammering of South Africa in the 2010 edition, also hosted by India in New Delhi. The goalfest began in the seventh minute with Jip Janssen converting the first penalty corner of the match.
The Netherlands earned two more in the first quarter, but Chile defended well. In fact, the Chileans were at their best in the first 15 minutes, crowding their circle to thwart the Dutch. But that was all they could do as the Netherlands, apparently warmed up enough, got down to business.
Four goals in eight minutes, three PCs and 61% possession in the opposition half underlined the superiority at half-time. It only got better for the Dutch — and exponentially worse for Chile — adding six goals in the third quarter and three in the fourth; Teun Beins putting Holland's 17th penalty corner into the roof for the new record in the 49th minute.
Intentions clear
In the other Pool C match, Malaysia overturned form and ranking to upset New Zealand 3-2 and finish second in the pool. Tied on points, Malaysia started aggressively, making its intent clear with a penalty corner in the seventh minute, but it took the slightest of touches from Faizal Saari to Shello Silverius' hit to put the Asians ahead two minutes later.
In fact, Malaysia's victory was orchestrated and executed by its experienced trio of Saari, captain Marhan Jalil and veteran Razie Rahim — leading the attack, midfield and defence respectively and setting the bar for the younger players, especially Jalil who constantly kept the passage to the front open with incisive passes for Malaysia to lead 1-0 at half time.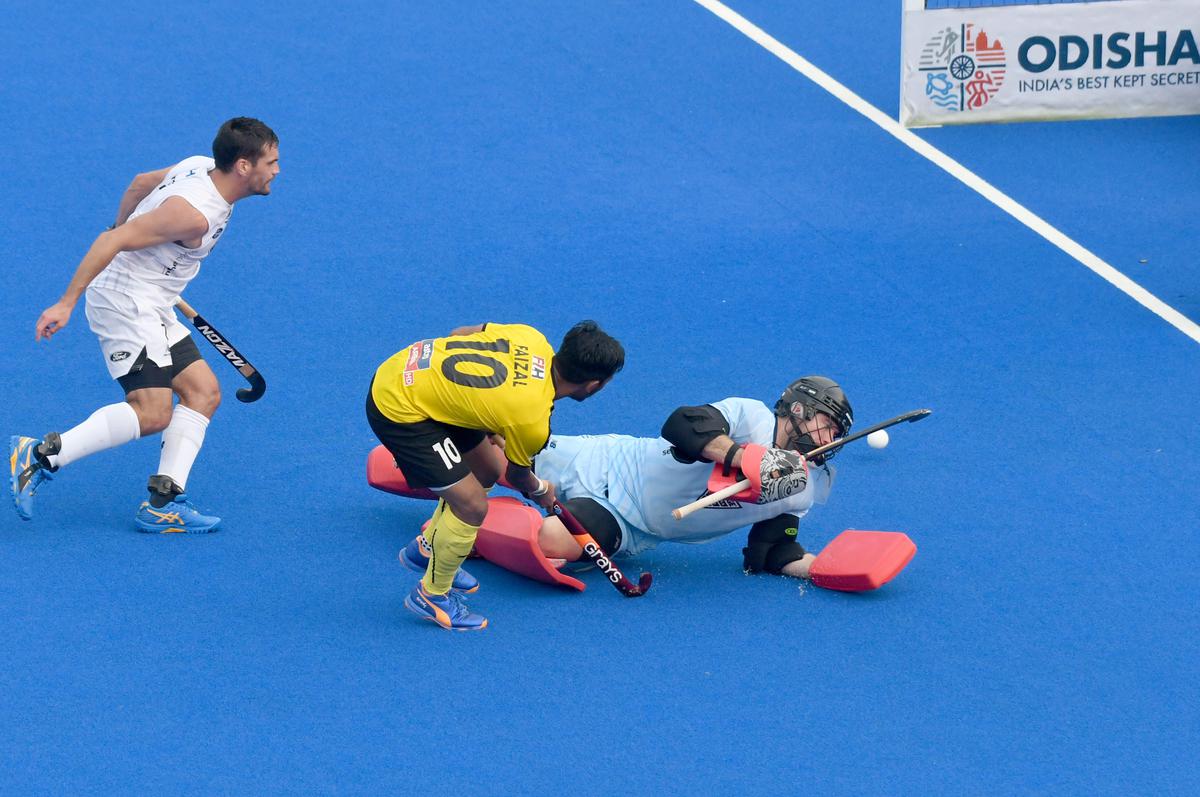 New Zealand was unable to breach a disciplined defence for three-quarters of the game. It was only in the final 15 minutes that the Black Sticks showed more urgency, scoring two goals in as many minutes — Sam Lane scoring the second for the 2500th World Cup goal — to level scores. But with New Zealand putting all its energies upfront, an absent defence meant Saari had all the time in the world to put the ball through goalkeeper Dominic Dixon's legs three minutes from time.
The results: Pool C: Malaysia 3 (Faizal Saari 2, Razie Rahim) bt New Zealand 2 (Hayden Phillips, Sam Lane).
The Netherlands 14 (Jip Janssen 4, Thierry Brinkmann 3, Koen Bijen 2, Thijs van Dam, Terrance Pieters, Teun Beins, Justen Blok, Derck de Vilder) bt Chile 0.
[ad_2]

Source link