[ad_1]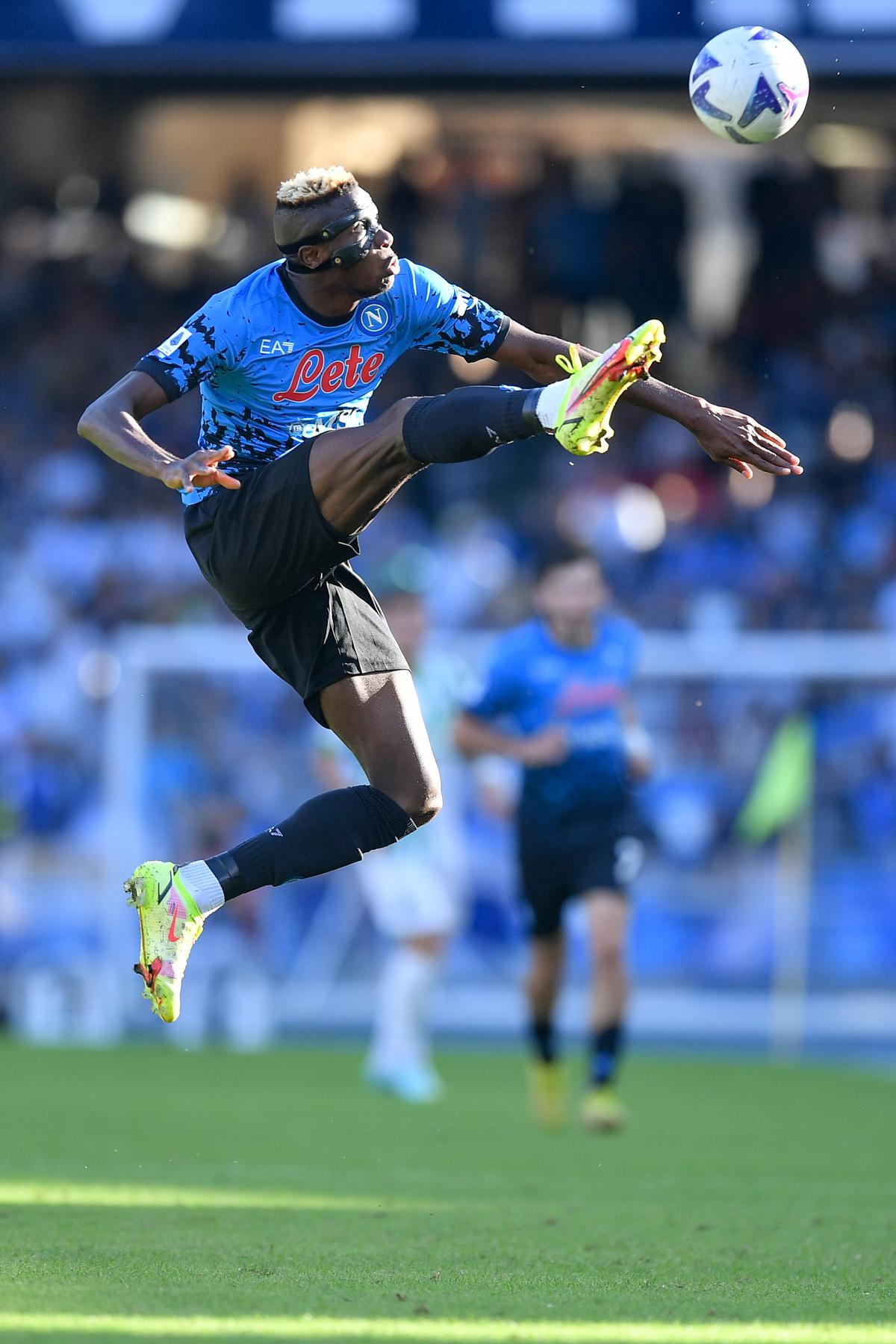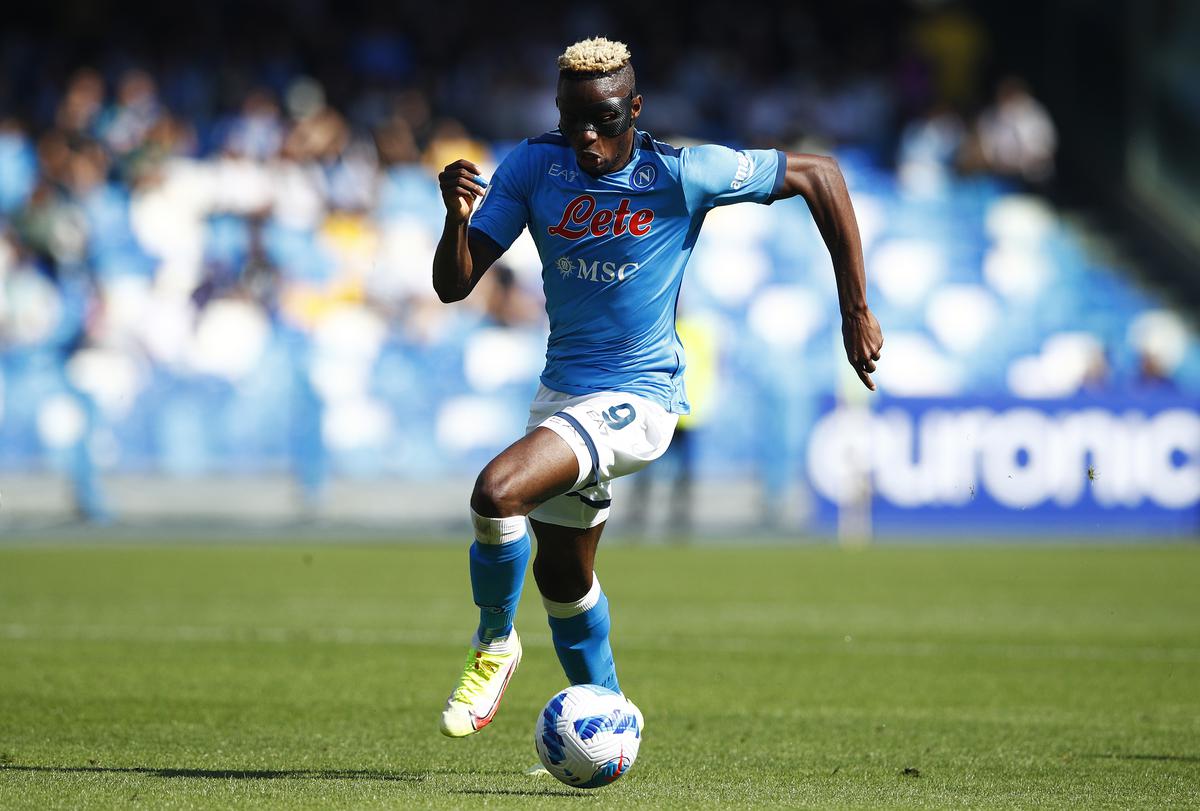 Victor Osimhen was 16 when he first caught the football world's eye. 
In front of scouts from clubs such as Liverpool, Chelsea, Bayern Munich and Juventus, the young Nigerian forward put on a show of irresistible brilliance at the 2015 Under-17 World Cup in Chile. He scored a tournament-record 10 goals to power Nigeria to the title. 
The performance won him the Golden Boot and Silver Ball awards and Africa's Youth Player of the Year award for 2015. It also enabled him to sign a pre-contract with German club Wolfsburg in January 2016, paving the way for a career in Europe.
Seven years later, he has Napoli dreaming of a first Serie A title in more than three decades. Widely regarded as one of the world's most dangerous strikers, the 24-year-old is being wooed by Europe's biggest clubs; the most attention is coming from the Premier League, where his athleticism, determination, skill and hardiness are highly coveted qualities. 
Struggle for survival
Osimhen's story is an inspirational tale of triumph over adversity. He lost his mother when he was very young — he doesn't remember the year — and three months later, his father lost his job. Cleaning his landlord's gutters and selling bottled water in the middle of traffic in Lagos to help his family make ends meet, the young boy would visit the neighbouring landfill with friends on weekends to look through the refuse for old football shoes. 
"We saw it as a game but when you think about it … it was always a fight. Sometimes you found a Nike on the right foot and then you start looking for the other foot … And finally, you find the left foot and it's a Reebok! It was survival. Part of my life has been a struggle to survive. But that's all I am today in the end. It's hard to classify all that but each event has created my personality," Osimhen told France Football.
His early days in Europe were incredibly challenging, as well. The teenager struggled for game-time at Wolfsburg, attended summer trials in Belgium and was rejected by two clubs, before eventually securing a loan to Charleroi. He had failed to score in any of his 16 appearances for Wolfsburg — although, to be fair, he averaged just a little over 20 minutes per appearance — and so his stint in Charleroi was make-or-break. 
Fortunately, Osimhen's talent found expression when allowed consistent minutes. His 20 goals in 36 appearances played a big part in earning a move to French club Lille, where he spent an 18-goal season (38 games). His performance in Ligue 1, not to mention his potentially high ceiling, compelled Napoli to fork out a reported 70 million euros for the signature of the then 21-year-old. It was an incredible high-stakes punt — it has since been investigated for possible false accounting in Italy — but the move has paid off for both club and player.
"To get to where I am today, there were a lot of obstacles, a lot of hate, backstabbing; my success came with love, pain, tears, failures, things like that," Osimhen said. 
Although his time at Wolfsburg was frustrating, he found someone who recognised his talent and helped him understand what it takes to be a goal-scorer. 
"I often think of Mario Gomez," Osimhen told Il Mattino. "At Wolfsburg, it wasn't easy and not only because of the climate. It was the first experience away from home, practically in another world. And Mario stopped with me at every training session. He gave me suggestions, to tell me what to do in order not to make mistakes. He trusted me. And I said to myself: if someone as important and good as he wastes time with someone like me, it means that he sees something in you that maybe I haven't seen yet. That helped me make the key step in my career."
Striker's striker
Gomez, who scored more than 300 goals in his career, may have been the first top-class striker to appreciate Osimhen's ability, but he now has company. Inter Milan's Romelu Lukaku called the Nigerian the top centre-forward in Serie A. Former Chelsea goal-machine Didier Drogba, one of Osimhen's idols, thought the 24-year-old could become the best in the world.
They have good reasons for their opinions: after scoring 10 and 14 goals in his first two Serie A seasons, Osimhen, so far, is the 2022-23 capocannoniere (the season's top-scorer) in spite of missing time injured! His 12 goals in 14 games have been a mix of towering headers and deft finishes, showcasing his bravery, touch and movement. 
His massive vertical leap makes him an aerial monster, but it's his fearlessness to go for the ball that allows him to be so effective — this despite fracturing his eye socket after a clash of heads in late 2021, which has led to him wearing a protective carbon-fibre mask on the field.
"Osimhen is such a great striker. The potential he has is scary," Napoli coach Luciano Spalletti said after the 5-1 demolition of Juventus last weekend, in which Osimhen scored two and assisted one. "He has the pace, the skill, the courage and physicality to deal with [challenging] situations. After all, he smashed his face a couple of times because he goes for every ball."
It's no wonder Premier League clubs are keeping tabs on him. Manchester United has reportedly shown the most interest, but Napoli values him at a whopping 140 million euros. 
Osimhen isn't thinking of leaving just yet. He feels at home in Naples and shares a strong bond with the fans. Black footballers continue to suffer racism in certain parts of Italy — Osimhen has been subjected to racist slurs in some away stadiums — but at Napoli, he said, he has found a "welcoming, understanding place" where he has "never felt anything discriminatory".
For now, all that matters to Osimhen is gifting the city he loves a dream — its first Scudetto since 1990, when Napoli clinched the Serie A title at the tail end of Diego Maradona's reign in Naples. "The road is still long, we care less about other teams," Osimhen said, with his side nine points clear at the top after 18 games. "We want to continue to do well, carry out the coach's instructions. And of course at the end of the season I think we have a good chance."
[ad_2]

Source link